Hippocampus Press is planning on coming out with an edition of the
Book of Jade
by David Park Barnitz in December which I am very excited for. Michael Abolafia, former intern at Hippocampus Press, last month called for any 'papers concerning any aspect of Park Barnitz's life and/or work -- whether a historical/political contextualization, a "close-reading" kind of analysis of a specific poem or group of poems, some notes on Barnitz as a writer of the Weird or as a Decadent/Symbolist, a reading of his work through a particular critical lens or framework, or anything else you think might aid in illuminating some facet of his art.'
I took the opportunity to write a 'close-reading' of my favorite poem of Barnitz's,
The Grotesques.
I should be hearing back from Michael on the essay anytime now.
If you are unfamiliar with David Park Barnitz, here is an insert about him:
"In early 1901 The Book of Jade by David Park Barnitz (1878-1901), a little-known masterpiece of decadent and nihilistic verse was published —at its author's insistence, anonymously— by San Francisco bookseller William Doxey; publisher of the popular humorist Gelett Burgess, as well as many obscure, macabre, (and sometimes decadent) authors.
Later that year, mid-west newspapers were reporting the sudden death of a twenty-three year old Harvard graduate and orientalist scholar, David Park Barnitz (1878-1901), who was, the obituaries said, the anonymous author "of a volume of poems…which was spoken of as of unusual merit" That book was The Book of Jade ―one of the poems from The Book of Jade having been published in the Overland Monthly in March, 1901, under a new title, but under Park Barnitz's own name. And while the newspapers were saying that Barnitz had died accidentally, of an "enlarged heart", it was soon being whispered that Barnitz had actually killed himself."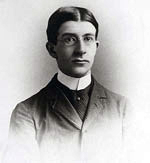 You can the
Book of Jade
here:
http://www.bookofjade.com/poems
Here are pics of the copy I have now. I can't wait to see the Hippocampus edition.